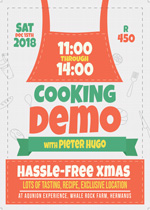 Join us at this exclusive venue with breathtaking sea views, for a cooking demonstration of a different kind. Presented by Pieter Hugo, you can expect a few surprise dishes and will definitely be able to offer your guests something different on the menu, this year.
Lunch & Drinks are included.  Book by Wednesday, 12 December 2018. Tel: 065-997 6108
Easter in Hermanus is a fantastic affair that brings together all walks of life to celebrate the rebirth of Christ and the heritage of Hermanus. During Easter Weekend you can find many different activities for you and the family to enjoy.
PASSION PLAY HERMANUS
During Easter Weekend it's a religious tradition to celebrate the resurrection of Christ and Hermanus is now well-known for their in depth and amazingly rendered Passion Play.
"The creators of the Hermanus Passion Play call it a miracle. Those who have seen the play, performed in its unique rocky setting in the Old Harbour, simply call it unforgettable. And then there are some who say that it is even better than the famous Passion Play at Oberammergau. For the past fifteen years, the Passion Play has been performed on Good Friday at the Old Harbour in Hermanus. Every year it is watched by thousands - some come from as far as Pretoria and Johannesburg with the sole aim to watch the electrifying performance in its stark old-worldish harbour setting." (Whale Talk 2010)
HERMANUS VISBASH
The Hermanus Visbash takes place in Onrus River over the Easter holidays (April – May) and is a lovely event that locals and visitors look forward to every year. During the day the air is filled with the mouth-watering scents of fresh seafood as local talents create teams and participate in the Visbash competition to find out who is this year's best seafood chef(s). While the competition is in full swing there's also many different stalls, arts and crafts for the children and entertainment for the whole family to enjoy. There are also several ideal picnic spots to relax at (or nap) that are usually sheltered from the sun and offer a great vantage point of everything that's going on around the fair.
There are so many other activities to entertain the family with during this holiday, like the Saturday Markets, walks in Fernkloof Nature Reserve, beach outtings to catch up on some tanning, Cliff Path walks and more!
Every year the Wine Village Hermanus will hosts its famous Wine Celebration from December and all through January. This wine tasting extravaganza is completely free and can be enjoyed from all day, every day, giving visitors plenty of time to sip, smell and enjoy all that's on offer during this month-and-a-half long event.
The Wine Village was founded in 2004 by Paul and Cathy Du Toit; a driven couple that have transformed this once small shop into the success that it is today. They host over 700 different wines from the Elim to Elgin wine region, with their numbers increasing every year. The Wine Village has also been voted one of the Best Wine Shops in South Africa.
During the celebration you can look forward to a lot of different aspects of the "wine way", including:
A VARIETY OF VINO
The Wine Celebration usually features over 80 unique wines from their cellars, giving visitors the opportunity to taste the fruits of the Overberg's labour. To insure that everyone is able to taste the wines, 12 bottles of wine are opened daily, all of which can also be bought from the Wine Village's extensive shop. The Celebration will also offer tasters of ciders, port, grappa, brandy, craft beers and more.
EATS & TREATS
When the hunger pangs set in there are several fine restaurants and bistros in the Hemel en Aarde Village area. There are also various other shops that offer some personalized and lovely treats for gifts and/or to nibble on; from freshly baked goods and preserves to sweets, organic chocolates and hand-made items.
For more information on the Wine Village Celebration feel free to visit their Official Site or send them a quick This email address is being protected from spambots. You need JavaScript enabled to view it.
You are invited to join in on the 19th Annual Pinotage Auction, held by the Hermanus Round Table!
VENUE: Rivendell Wine Estate
DATE: Saturday 13 December 2014
PRICE: R300.00 p/person (which includes the tasting, table wines and a three course gourmet meal)
As children, our parents always warned us to not shove our mouths full of food because it's bad manners. But sometimes a person forgoes such comments, saying: "There is always an exception to the rule." By the 14th Kalfiefees we have definitely broken this rule by shoving two and a half days' worth of festivities into our "mouths".