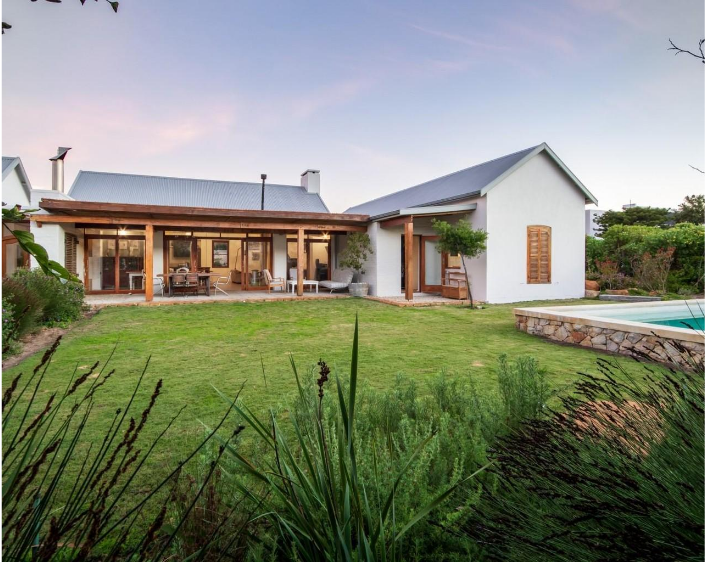 Have you been dreaming of a peaceful existence in a beautiful natural setting? Are you looking for a safe place to lead a laid-back lifestyle surrounded by all the conveniences of an upmarket neighbourhood? If residing in one of the most sought-after residential villages in the seaside hamlet of Hermanus sounds like your ideal then the secure Fernkloof Golf Estate is the place for you.
Fernkloof Golf Estate
Neighbouring the spectacular Fernkloof Nature Reserve and built around the historic Hermanus Golf Club and course - this estate is the perfect place for golfing enthusiasts or those seeking a lifestyle of leisure. Here, you will find a wonderful mix of serenity and amenities - all catering to opulent living. Launching in 2004, this residential development was so anticipated that all 330 erven were sold out in less than six hours - bringing in a total of R260m at the time.
Today properties in the estate are rare to come by, with many homeowners holding on to their investments. With the majority of residents falling between the ages of 50 and above, the average sales price of homes in Fernkloof Golf Estate has risen from approximately R1.2m in 2010 to R5.5m in 2017.
Currently on offer from Hermanus Property Sales in Fernkloof Golf Estate
Due to the scarcity of available property, the opportunity to purchase a home in this estate does not present itself every day. Currently on offer is a sole mandate from Hermanus Property Sales. Tucked away down a panhandle in the Prestwick Village precinct is a sublime three bedroom family home, listed at R7.15m. Offering great estate living, together with excellent security and great vernacular architecture, this home has been sited to maximise the Northern aspect and surrounding mountain. Boasting large open living areas, a pool and feature fireplace which flows out onto the covered entertainer patio area this is the ideal abode for anyone wanting a slice of the quiet life.
Precincts in Fernkloof Golf Estate
Fernkloof Golf Estate is divided into seven secure precincts known as villages, these include; Fairbanks Village, Innesbrooke Village, Eighteen on 18, Prestwick Village, Lakewood Village, Hillside Village and Fernkloof Village. Each village is run and overseen by a property owners association that enforces the estate guidelines. Designed to make the most of their stunning natural environment - with mountainous and ocean views which can be enjoyed from the more elevated precincts - every village provides residents with access to the golf course by means of a public pathway.
Top Notch Security
Fernkloof Golf Estate also offers excellent security features, with all precincts (bar precinct one) boasting their very own attractively designed, slate tiled guardhouse with access controlled electronic gates. Every individual village makes use of separate postboxes and a postal delivery system, as well as an intercom system that links to every home for added safety.
Affording home buyers an opulent and relaxed lifestyle, in one of the most popular security villages, while enjoying the neighbouring golf course, spectacular views and all the vistas of Hermanus - Fernkloof Golf Estate is the place for you. Contact Hermanus Property Sales today and secure your home amidst the beauty of Fernkloof Golf Estate.
Author:Hermanus Property Sales.