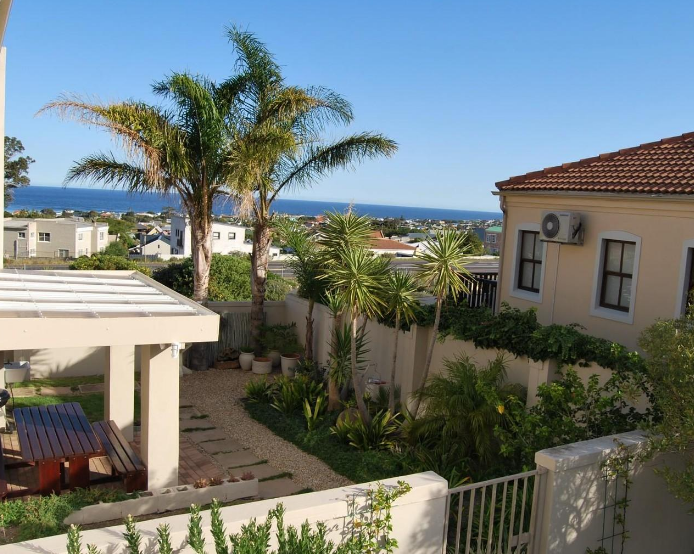 Nestled between the Mossel Mountain Range and the coastline of the South Atlantic, in the peaceful suburb of Onrus, you will find the beautiful Berghof Estate. As one of the best-kept secrets in the Overstrand, this small residential estate has a distinct countryside feel. Pinned against the slopes of the mountain Berghof overlooks the entire bay, from Gansbaai to Vermont.
Berghof's design incorporates Tuscan style elements, which produces a balanced aesthetic - seamlessly blending with the brilliant views of the ocean and mountain backdrop. One of the biggest drawcards for those wanting to live here must be the ocean view. With Hermanus being the whale watching capital of South Africa, whale and dolphin watching from your patio is a common occurrence in Berghof.
Despite being a short drive from the centre of town, there is a calming nature about this area. With an abundant birdlife, one feels somewhat removed from the hustle and bustle of everyday life. Here a lifestyle focused on outdoor living is encouraged as there are several hiking trails in this development.
Effortless Convenience
Residents of the Berghof Estate enjoy easy access to a host of modern amenities, including two schools located within its borders; namely Northcliff House College and Berghof School. Apart from these institutions, there are many other prestigious schools in this catchment area, providing parents with a great selection of choices.
Bordered by the R43 Berghof is less than 4 km away from the nearest shopping destination and under 7 km from the nearest medical facility. This arterial route also connects Berghof to the N2 which runs directly to Cape Town (113 km).
Affordable Property Prices
With homes in similar Hermanus estates being sold at very competitive prices, these properties are being snapped up by investors. As the opportunity to buy homes in these sought-after developments become scarcer, Berghof is one of the last places where you can find affordable Hermanus properties and vacant plots with views. Property prices start around R700 000 for vacant land and totals at approximately R4m for a completed four bedroom home.
These prices are still significantly lower than Berghof's counterparts, Hemel-en-Aarde and Chanteclair where properties have been valued above the R6m mark.
Do You Want to Live in Berghof?
Currently on the market is a beautiful three bedroom home. Listed at R2.9m, this joint mandate offers modern finishes, a manicured garden, spacious living areas and a balcony with sweeping views of the ocean. Ideal for a family with children, this property can be found in the secure Berghof Estate and boasts a generously sized flat with its own entrance.
If you are in the market for a home in an area with spectacular sea views look no further. Berghof has everything you could want in a residential address. From the secure homes in close proximity to all the conveniences Hermanus has to offer to an unmatched location - Berghof is the place for you. Contact Hermanus Property Sales today and our dedicated team of property professionals will help you find what you have been looking for and more.
Author:Hermanus Property Sales.