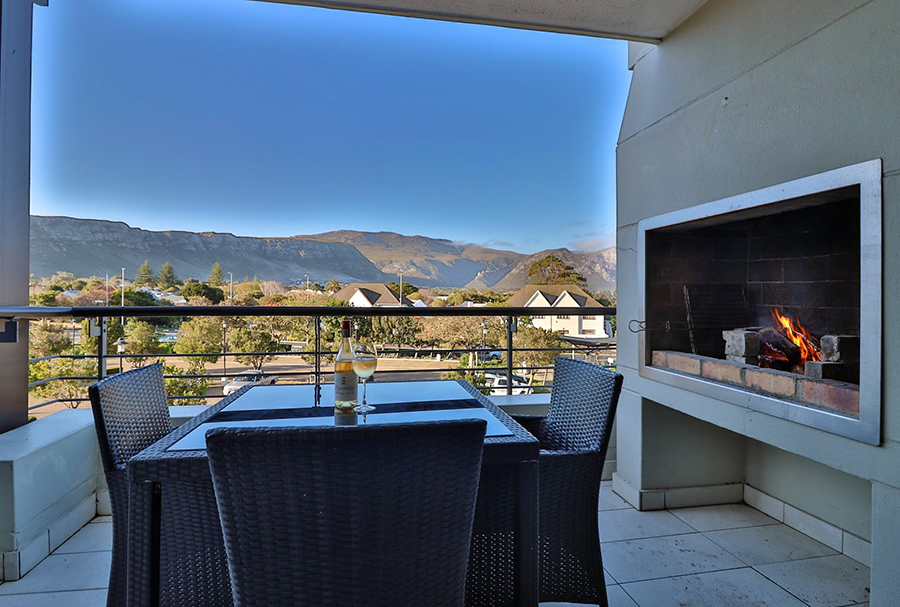 The Whale Coast Hotel offers elegant self-catering 4 star accommodation to both leisure and corporate visitors in Hermanus, Western Cape. 
The self-catering apartments are fully equipped for a stay in unrivalled luxury. Our central location allows for indulgence in the beautiful coastal town as well as exploring the scenic beauty and many adventures it has to offer. Local Restaurants, boutiques, coffee shops, bistros and exciting outdoor activities are in close proximity just as are local landmarks such as the Old Harbour and the Cliff Path which are only a few minutes walk away.
The Whale Coast Hotel is conveniently situated in front of a shopping mall next to the "Hermanus Station Building"offering the incomparable comfort to have everyday commodities just around the corner. Our fully equipped self-catering apartments offer unrivalled luxury and are built in a state-of-an-art maisonette style allowing for a pleasant apportionment into a living area downstairs and a sleeping area on the upper floor.
The following standard features and services are available in all our self-catering apartments:
24hr reception service available
2 complimentary bottles of  water in the apartment upon arrival
A fully equipped kitchen with exclusive granite finishes includes dishwasher, fridge, freezer, oven and hob
A spacious furnished patio with BBQ facilities
Complimentary toiletries by "Aloe Vera"
Hairdryer
Private safe for valuables in the master bedrooms

43" LED flat screen TV with Surround Sound and selected DSTV channels
CD / DVD player
Complimentary WiFi
Complimentary secure underground parking
Beach towels (deposit required)
Apartments are serviced daily
As the gate to the Garden Route, Hermanus is conveniently located as the ideal hub to many locations and attractions worthwhile visiting no matter if you are coming from a Cape Town, Port Elizabeth or Johannesburg direction.
This beautiful village has lovely warm dry summers (October to May). Winter (June-December) is mild with occasional rain and many beautiful, sunny and blue sky days.
We have great experience with advising our guests about various Hermanus tours and adventures. It is our delight to assist you in the planning of your holiday and ensuring a memorable stay in the Western Cape and throughout South Africa.
Tripadvisor Reviews
"Fantastic place to explore Hermanus" - I stayed here with friends for a couple of nights while visiting Hermanus. I can't fault this hotel at all - huge modern apartment and great value for money. Comfortable beds, great location, friendly staff, and great for girls as it's situated on top of the local shopping centre! ... read more
"brilliant" - Would definitely return!, we stayed for a family holiday in 2 apartments, found staff extremely helpful and friendly with recommendations on things to see and do, apartments were great, plenty of room and tidy great location... read more
"Brilliant Hotel and Perfect Location" - I recently stayed at the Whale Coast Hotel over a Saturday evening and was well impressed with the great service provided by all staff. Location is ideal and walking distance from all the great restaurants and whale viewing spots in Hermanus...read more
| | | | | |
| --- | --- | --- | --- | --- |
| | | | This email address is being protected from spambots. You need JavaScript enabled to view it. | |