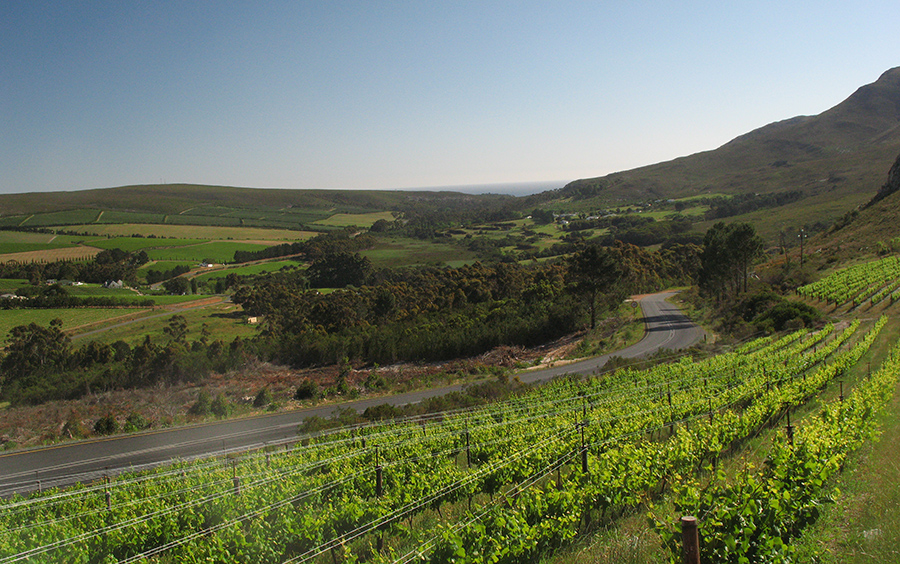 On the way towards Hermanus along the R44, a quick left turn onto the R320 at the Wine Village will find you travelling along the stunningly picturesque Hemel en Aarde Valley, which is a beautiful route and is a perfect way to experience a different side of the Overberg. This road is also an alternative route to Caledon, linking Hermanus and the surrounding areas to this town. Once a gravel road, it is now in the process of being tarred, making the 35 km trip to Caledon a winding and enjoyable route that passes by several different wine and entertainment facilities. Completion of this road is set for September 2013.
The Wine Route, along the R320, boasts more than just its vast array of wine farms. It is also famous for its uninterrupted views of the valley from any one of the superb restaurants, deli's or stalls, all of which give you the choice of world class wines and meals. You can also enjoy a more thrilling experience by taking a tour of the valley via horseback at Cloud's End, or you can choose to enjoy an adrenaline pumped afternoon of paint ball wars, quad bike or zip-line tours at Hermanus Forest Adventures. There are also hiking and mountain biking trails on offer from other adventure businesses.
The Valley is therefore an escape from the norm of city life and should be enjoyed at a leisurely pace. The experience will leave you feeling refreshed and content. It was once said that "so high are the hills, which closely embrace the valley all around, that they seem to touch the sky and you cannot see anything but Heaven and Earth".