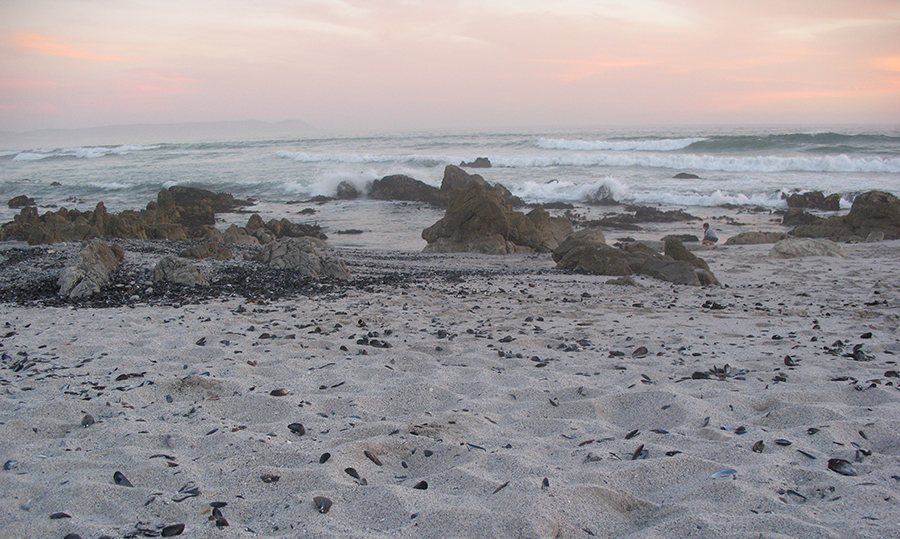 The Blue Flag Grotto Beach is well known for its massive stretch of stunning sandy beach and ocean. It is enjoyed by locals and tourists alike and boasts a view of the mountainous areas behind whilst still having a seemingly unending view of the beach. This beach is perfect for swimming, suntanning, games and long, leisurely walks and with ample parking it is the ideal holiday point for many.
The beach itself stretches for almost 18 km, making the walk an exercise but an enjoyable one. The beach starts at Grotto's Blue Flag beach and ends at the seaside hamlet of De Kelders. Also, because of the massive expanse of beach, during peak seasons there is no fear of being trodden on, having sand kicked onto you from a passing crowd or being hit by a volleyball from one of the many games played there. The waves on Grotto Beach are great for the avid body boarder and the waters warm during the Summer months and, again, there is plenty of space for all of the holiday goers. There is also a park for children to busy themselves on, which is situated on the beach, near the parking lot. It is as relaxing as it is beautiful and definitely deserves its Blue Flag status.
Also, for those who own pets, the beach is dog friendly, as long as the dogs are on leads and any and all waste matter is picked up by the owner.
The beach can be reached by driving through Hermanus and turning off onto the demarcated road to your right. You will also find a fantastic little restaurant at Grotto that offers drinks, snacks and meals for the passers by or the evening relaxers. Lifeguards are constantly on site during peak seasons and numerous educational and charity events happen during season. These include Coastcare Working, environmental education for the viewers, coastal monitoring by schools and the Adopt-a-beach initiative.