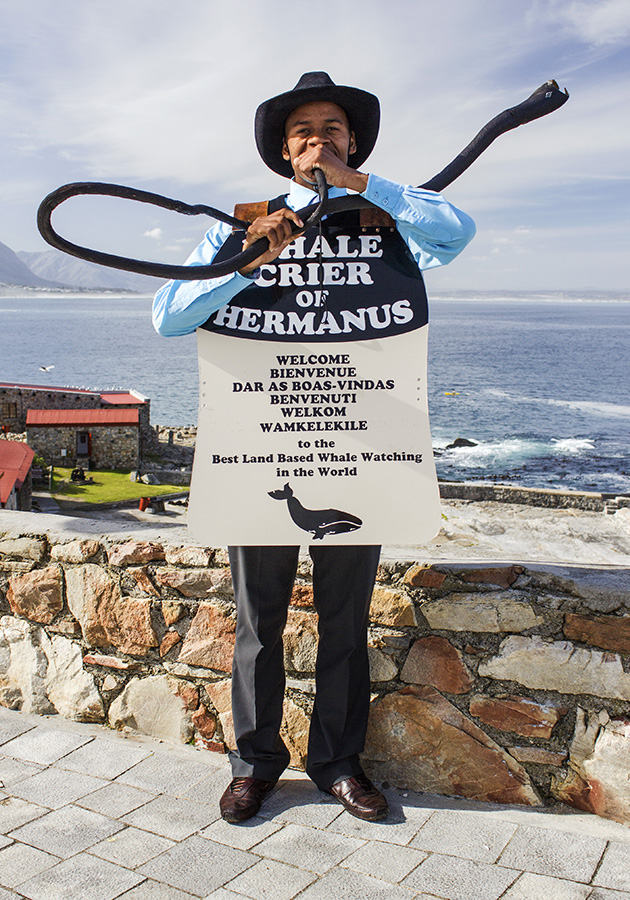 The much loved tradition of the Whale Crier started in 1991, when a visitor came into the Publicity offices of Hermanus and exclaimed that the whales he had just seen "must be the best kept secret in the Cape". On hearing this, Jim Wepener decided that this was a waste of a great opportunity and set about planning and organising the publicity stunt that is known today as the Whale Crier of Hermanus. Jim was a long time inhabitant of Hermanus and had made his way as a hotel and tourism manager. At first he had some of his family members call in to the local radio station whenever whales were spotted until he decided to up the ante and create a new position in Hermanus as "The Whale Crier".
By August 1992 the first Whale Crier was heard, blowing on the now familiar kelp horn to alert tourists of whales nearby. Pieter Claasen, who had been an employee of the Old Harbour, was unaware of the impact he would make in the years to come. Although he was taunted for dressing like a papegaai, Jim helped Pieter to stand his ground, which resulted in Pieter gaining international recognition. Trips and interviews spread to Cape Town then to Johannesburg and finally to the UK for the Annual Town Criers Competition in Topsham. Not only was he the Guest of Honour but he also lead the procession through the streets, calling his South African greetings as he did.
When Pieter retired the title was handed over to Wilson Salakuzana from Zwelihle, Hermanus. Soon after he started it was said that he was "the most photographed South African after Mandela". He also represented South Africa as the Only Whale Crier in the world in Manchester, UK. For 8 years Wilson imparted his vast knowledge of whales and Hermanus to the tourist crowds that flocked to the beaches and view points. He later created his very own township tours called Ubuntu Tours. Once he retired he focused on his tours and can still be found within his home town of Zwelihle.
Godleck Baleni followed in Wilson's footsteps, giving the position his own personal flair. His easy-going attitude and wide smile made him a pleasant Whale Crier. Sadly, his stint as the Whale Crier was a short one when the pressures of the position became too much to bear and he chose to resign.
During Godleck's short stint as The Whale Crier, Pasika Noboba was looking to charge his career. As soon as he started in September 2008, it was clear that he was made to be the World's only Whale Crierᵀᴹ. His great dedication and tremendous knowledge of whales and Hermanus that always had his audience enraptured.
When Godleck decided to retire in 2011, he left the position open for whale enthusiast Eric Davalah. Whilst working as a parking attendant at the neighbouring lot, he had started to take note of the Whale Crier and his actions, causing Eric to make it a hobby of his to learn about the whales. When he applied for the newly vacated position he had less than two months before the season started. When asked about his first season he described it as difficult and strenuous but also one of the best experiences of his life.
After a short period he changed the calling system from the "morse code" method of his predecessors by choosing to rather make one long call when whales were spotted. Although this was not the norm, tourists and inhabitants alike began to know where he was and where to view the whales. His calls can also be heard during tours, during which the group will visit several of the more well known areas for whale watching as well as be shown and told about the history of Hermanus.
Out of season Eric can be found at either the Information Kiosk at the Village Square or at the Tourism Bureau in High Street. He says that although this may only be his third season, he has never been happier. He hopes to prolong his position for as long as he can.