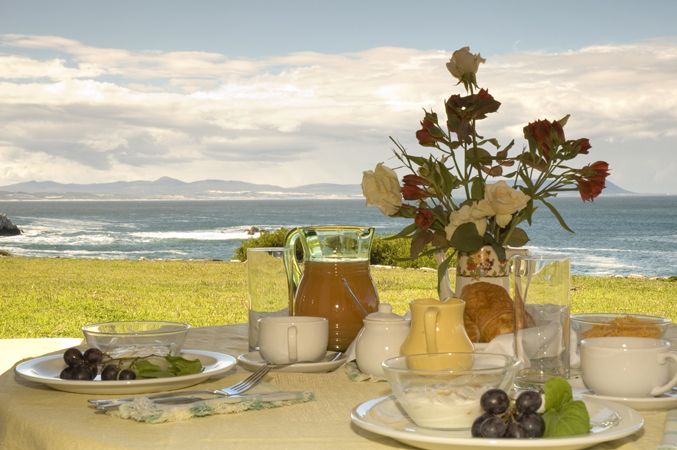 This historical cottage (1820's) is located on a 1km strip of virtually uninterrupted coastline directly on the oceanfront.

Wendy's is self-catering accommodation at its best. This charming cottage is situated right on the cliff, overlooking the ocean. It has a very relaxed ambience, where you can escape the hustle and bustle of city life and enjoy the laidback lifestyle this seaside town has to offer.
Not only is Wendy's cottage the ideal holiday retreat but it also has a history dating all the way back to the 1930's.
Located in the heart of the coastal fishing village of Hermanus , Wendy's cottage is named after a lone female whale that used to visit the town in the late 1930's. According to SJ du Toit's book, 'Hermanus Stories' , this whale, who was fondly known as Wendy, was considered one of the family by the village folk, as she used to return year after year. She stopped coming to the bay in the early 1940's but the house that was situated on the rocks, near that lonesome spot, was named Wendy's cottage in her honour. The tradition was carried on to the 1950s when another female whale was named Wendy. The press regularly reported on the movements of Wendy and her calf.
Accommodation Options
Bedrooms
Room 1 – Double bed with en-suite bathroom (toilet, basin and shower)
Room 2 – Twin beds (separate bathroom with toilet, basin, shower and bath)
Room 3 – Double bed with en-suite bathroom (toilet, basin and shower) and separate entrance.
Kitchen
Fully fitted with dishwasher and microwave
Washing machine and tumble dryer also available (in garage)
Facilities
M-Net & DSTV: Duel view in Lounge & TV room. Available on request

Braai facilities: Yes, outside
Fireplace: Yes
Bedding and towels: Included
Cleaning services: Please Enquire
Check in time: 15:00
Check out time: 10:00